Become a cross-industry expert in project management
About the school
Project Management is a skill needed in almost every area of contemporary business. Studying with us here at the School of Project Management is your opportunity to become an expert with transferable skills through all industries and sectors.
Project management skills and techniques are used in engineering, technology, education, health, wellbeing, events management, community and environmental programmes, as well as tourism and many more creative and service industries. Because of this, a degree qualification which gives you the latest industry knowledge and fill the current global skills gap will have wide reaching employer-appeal and is your ticket to a highly rewarding career.
When establishing the School of Project Management, we set in place a core mission: to promote academic excellence and industry-led teaching to foster graduates who are qualified and effective project managers. We work to ensure that our students can achieve skills that mirror the industry requirements set out by the Chartered Body for the Project Profession (APM) and other key professional bodies in the sector.
In recent times, the business world, like our own lives, has become increasingly challenging and has called for new solutions to unprecedented demands. The School of Project Management is therefore the right place for you to gain knowledge and critical understanding of the latest digital business solutions, as well as a work-based approach, giving you the opportunity to deliver real impact in your future project management career.
Project Management in numbers
Source: PwC and APM The Golden Thread 2019
The PM sector generating £156.5bn of annual GVA.
Research suggests that only 22% of projects wholly meet their original objectives, while 87% rate competent project teams critical or very important (APM The Voice of the profession 2017).
Source: APM The Voice of the profession 2017
Source: PwC and APM The Golden Thread 2019
By 2027 employers will need 87.7 million individuals working in project management-orientated roles.
The UK alone has 2.13 million FTE workers .
Faculty staff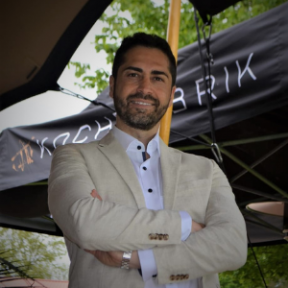 Dr Serkan Ceylan joined us in 2021 as our Head of School of Project Management. Serkan was born in Hamburg, Germany, and moved to the UK in 2006. He has visiting Professorships/Lectureships in Germany, Spain, Finland and France, and has undertaken external examiner duties for Universities such as Lancaster University and the University of Bedfordshire.
To date, Serkan has secured over £1,000,000 worth of research and enterprise grants from research bodies such as Research England and Knowledge Transfer Partnerships, as well as securing PhD scholarships from the Engineering and Physical Sciences Research Council and the Economic and Social Research Council. He is also a non-executive director for the International Project Management Consortium and acts as an APM board member for the WESSEX region. He is a published author of the book: AgileFrame® Understanding multifaceted project approaches for successful project management.
Serkan will be responsible for restructuring our portfolio of project management courses, and raising Arden University's profile within the industry through the development of close industry ties and future partnerships.
Dr Serkan Ceylan
Head of School of Project Management
Dr Dauda Hamzat
Deputy Head of School
Dr Victor Vargas
MSc Programme Team Leader
Dr Emmanuel Unuafe
Senior Lecturer
Accrediting bodies and industry partners
Association for Project Management (APM)
The Association for Project Management (APM) is committed to developing project management excellence. The organisation has more than 30,000 members and 500 organisations participating in its partnership programmes.
Business Graduates Association (BGA)
Arden University's Faculty of Business is an esteemed member institution of the Business Graduates Association (BGA), an international quality assurance body of world-leading education providers who share a commitment for responsible management practices and lifelong learning.
Project Management Institute (PMI) Germany
The Project Management Institute (PMI) is the leading professional association for project management and the authority for a growing global community of millions of professionals and individuals who use project management skills.  Arden University has partnered with the PMIs Germany Chapter to provide you with access to a number of valuable resources, including training, lectures, and networking events.